https://www.deseretnews.com/article/705314456/Utah-will-host-new-19-billion-NSA-spy-center.html
http://nationalpost.com/news/politics/smart-meters-are-vulnerable-to-hacking-and-present-a-threat-to-personal-privacy-ontario-new-democrat-warns
https://www.theguardian.com/technology/2016/dec/29/smart-electricity-meters-dangerously-insecure-hackers
http://stopocsmartmeters.com/hacking-and-cybersecurity.html
http://healthimpactnews.com/2017/new-smart-meters-and-5g-technologies-can-be-used-to-intercept-all-of-your-private-data/
http://williamfothergillcooke.com/home/index.html
https://www.amazon.com/Cellphone-Recorder-Detection-Controlled-Notification/dp/B00YBFNN9U
https://www.thenewamerican.com/usnews/constitution/item/12473-trapwire-the-federal-govt-is-literally-watching-every-move-you-make
https://www.newyorker.com/news/amy-davidson/leaving-the-agency-as-the-agency-leaves
https://en.wikipedia.org/wiki/TrapWire
https://www.theguardian.com/world/2012/aug/13/trapwire-surveillance-system-exposed-leak
http://www.businessinsider.com/trapwire-everything-you-need-to-know-2012-8
http://www.theregister.co.uk/2010/07/08/perfect_citizen/
http://9-11truthbds.org/nfu6/dom_spy_agncy.htm#TrapWire
http://www.iflscience.com/technology/it-s-not-just-your-tv-listening-your-conversation/
https://www.cnet.com/news/samsungs-warning-our-smart-tvs-record-your-living-room-chatter/
https://www.howtogeek.com/324644/are-my-amazon-echo-and-google-home-spying-on-everything-i-say/


OPEN LETTER TO SENATOR GARY PETERS (Mich.) together with good standing directed herein now as well to the UNITED STATES CONGRESS and UNITED STATES PRESIDENT DONALD J. TRUMP, et al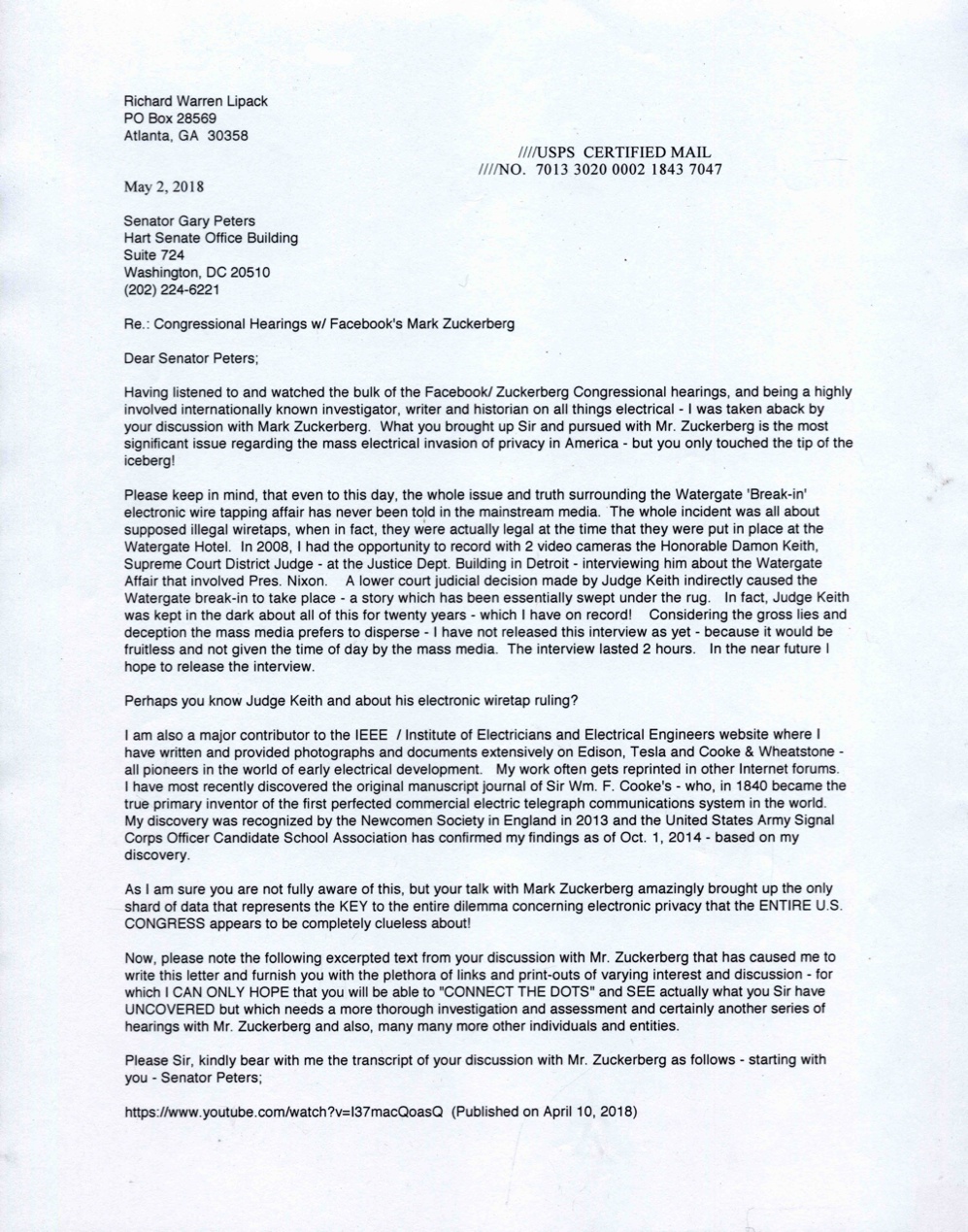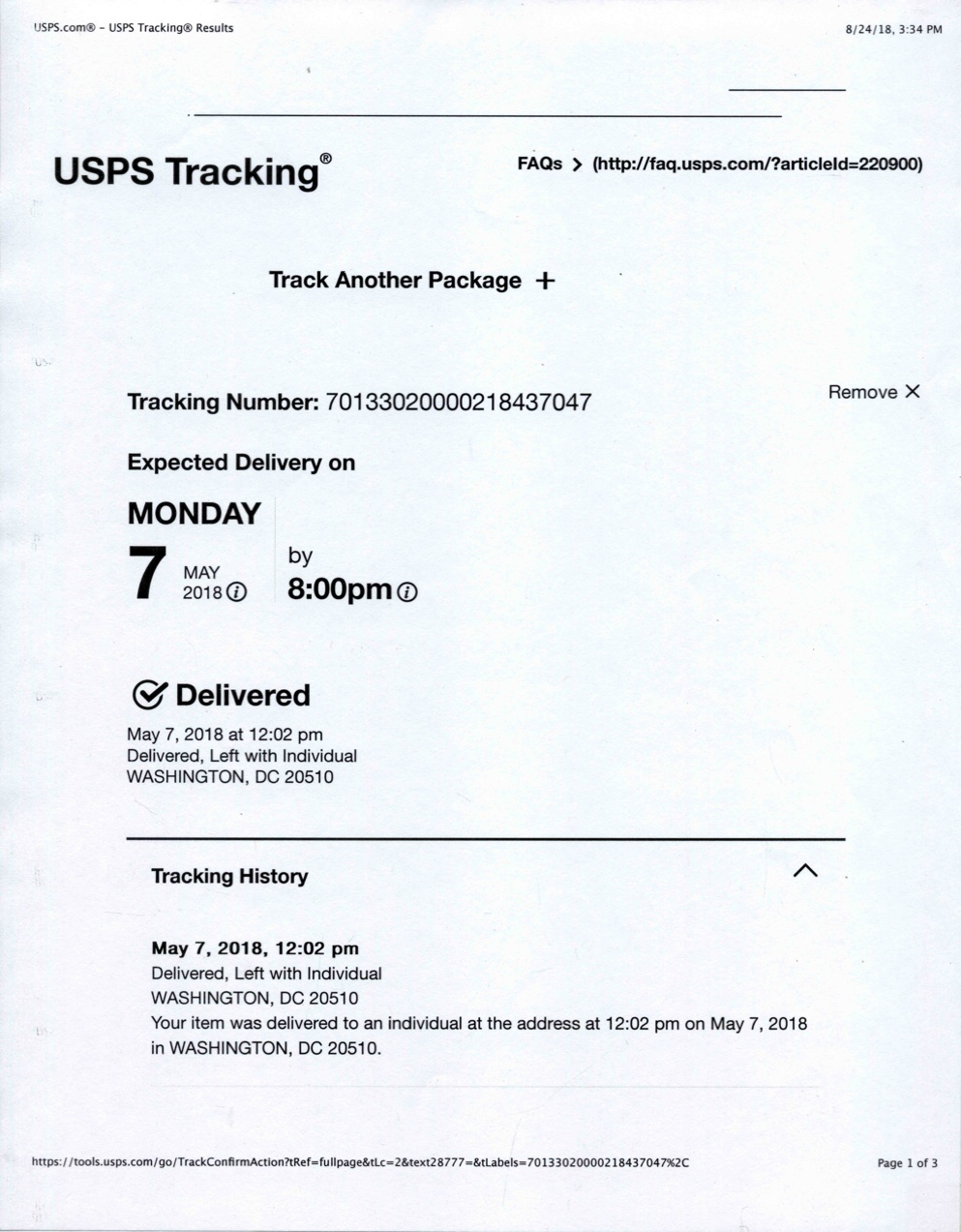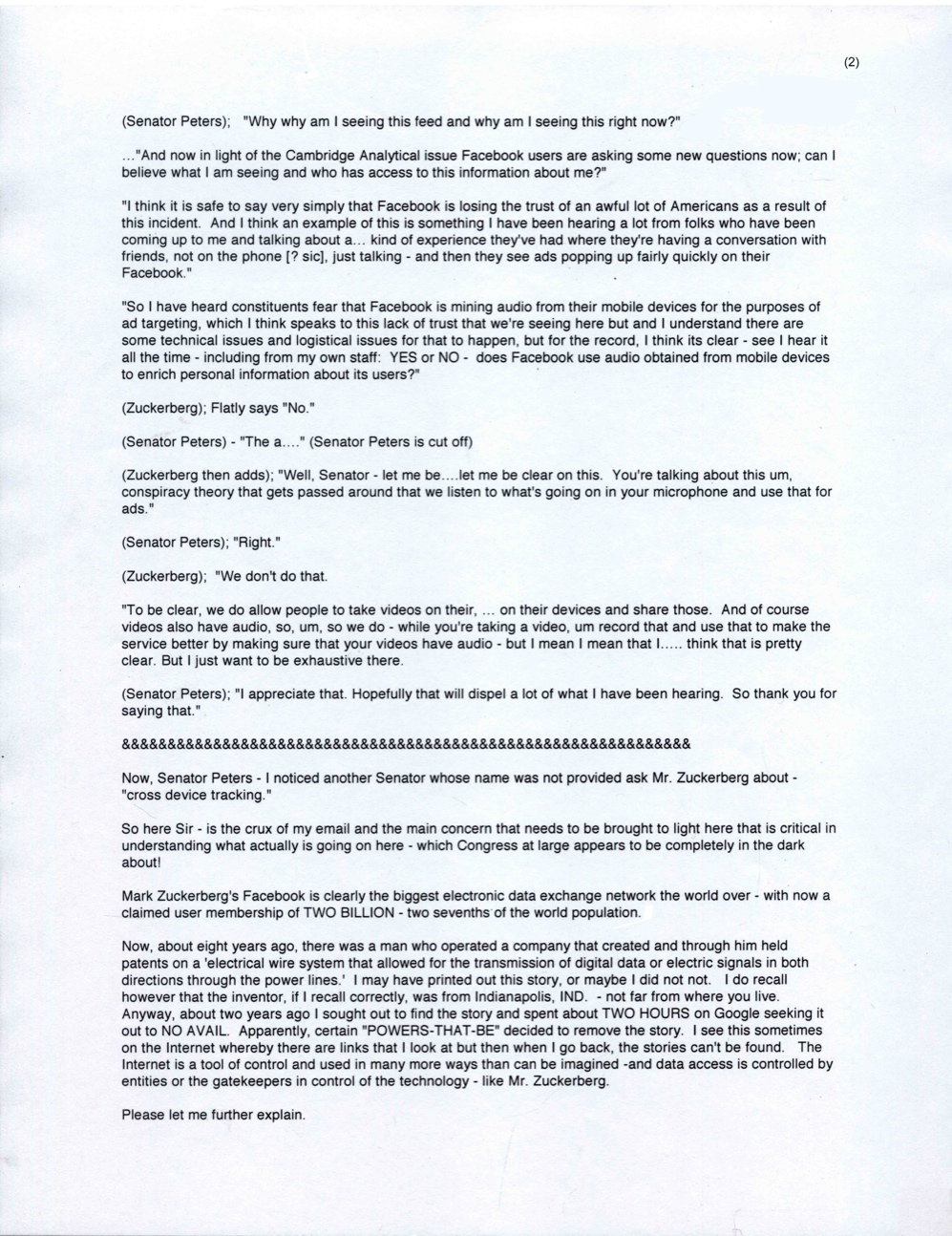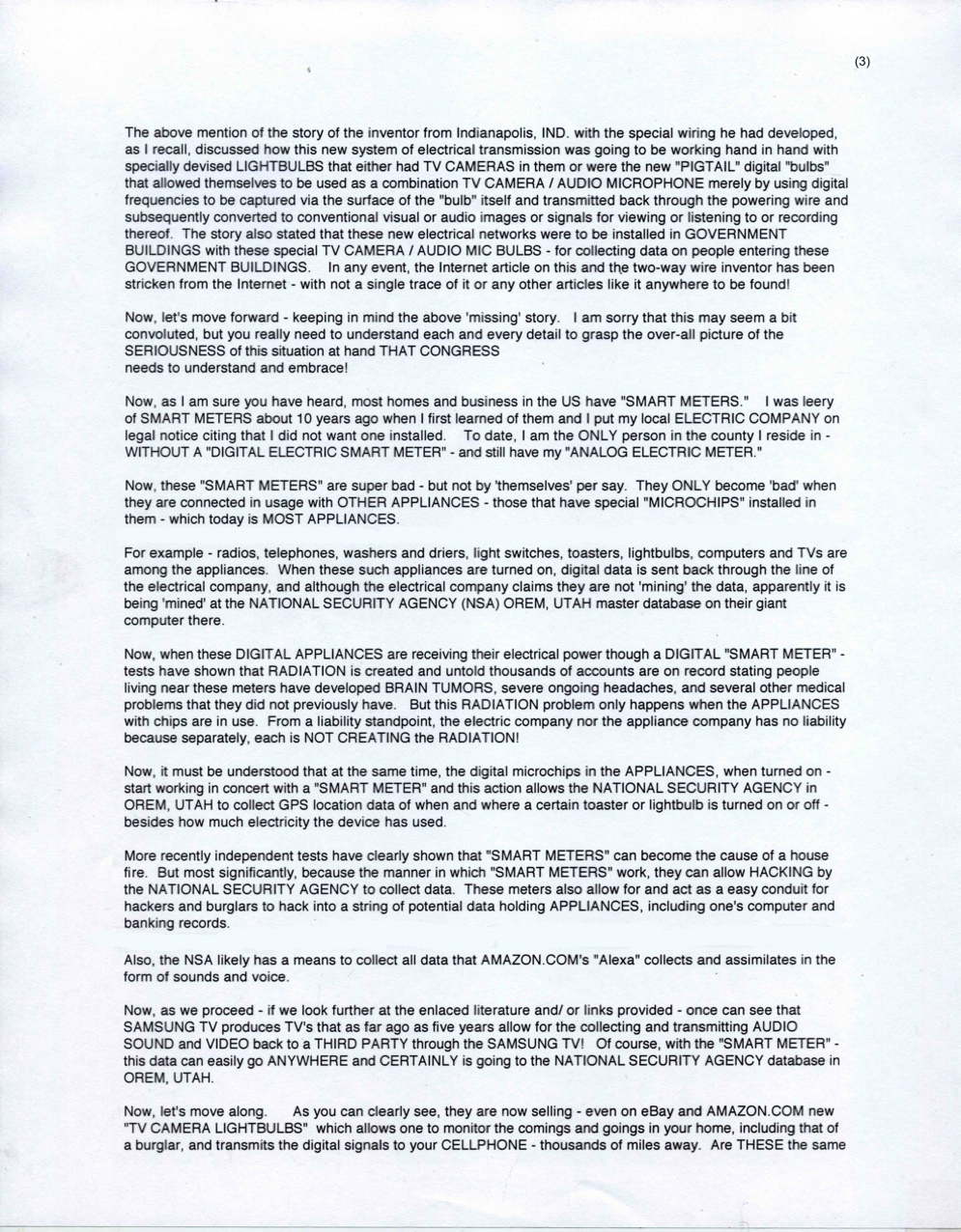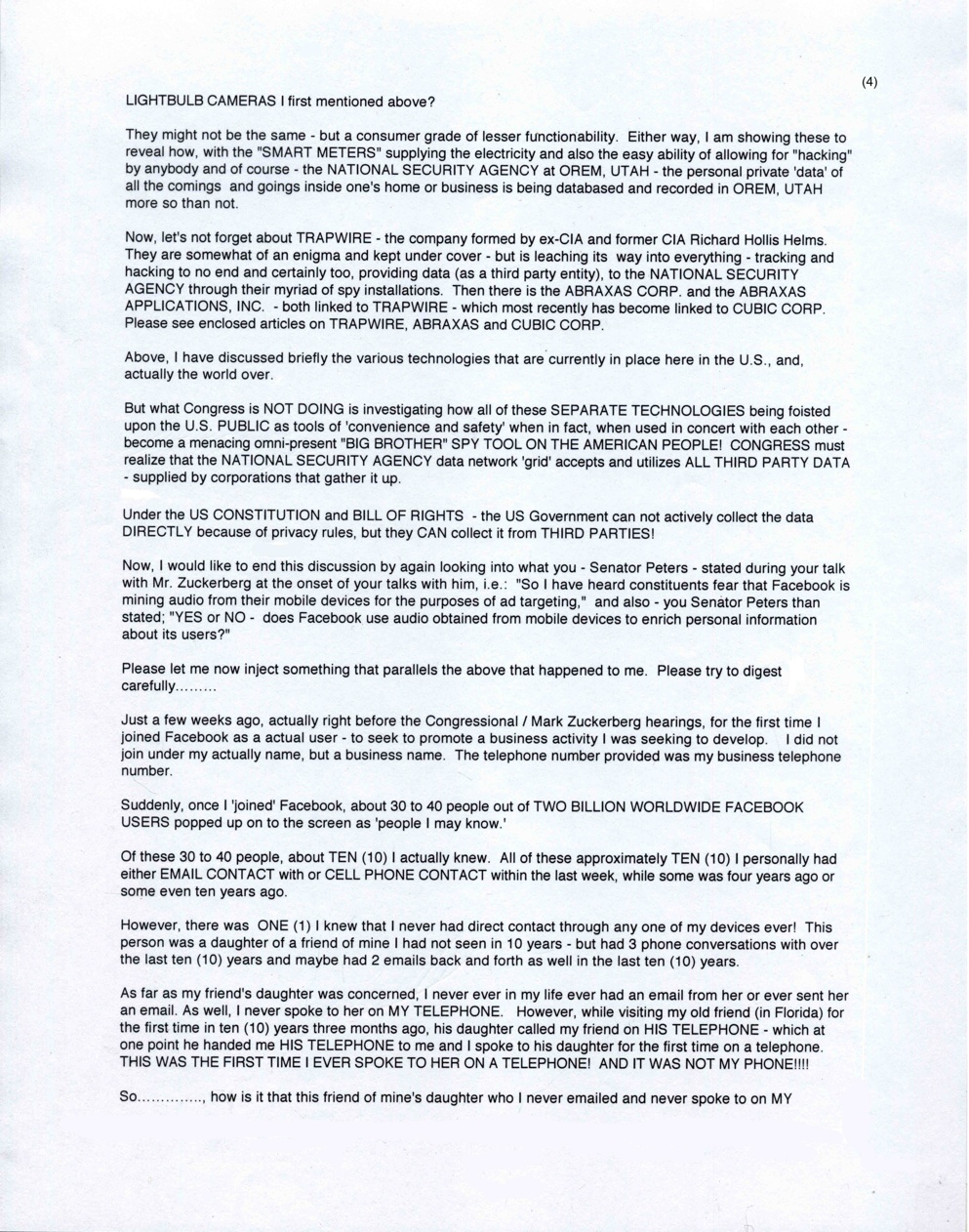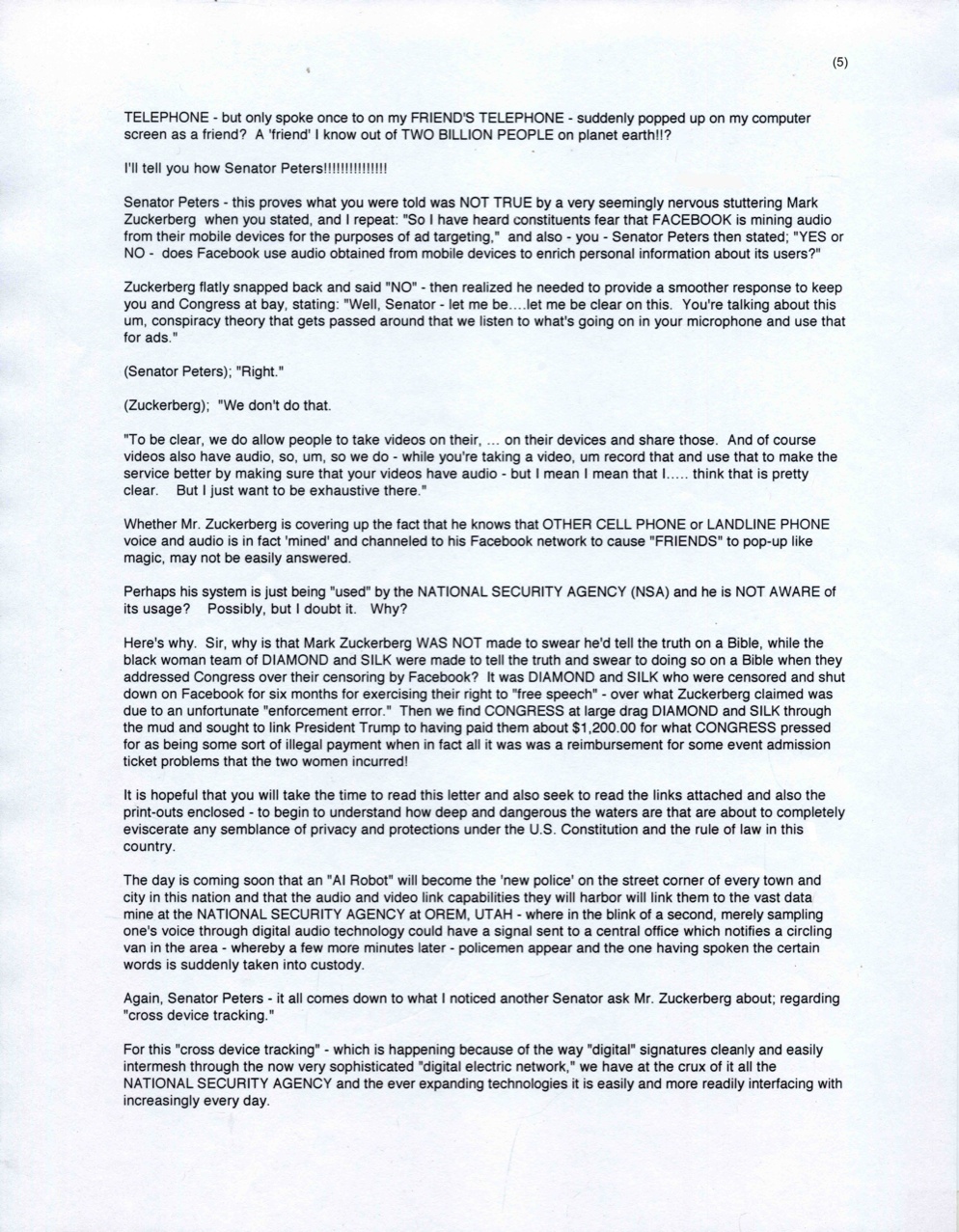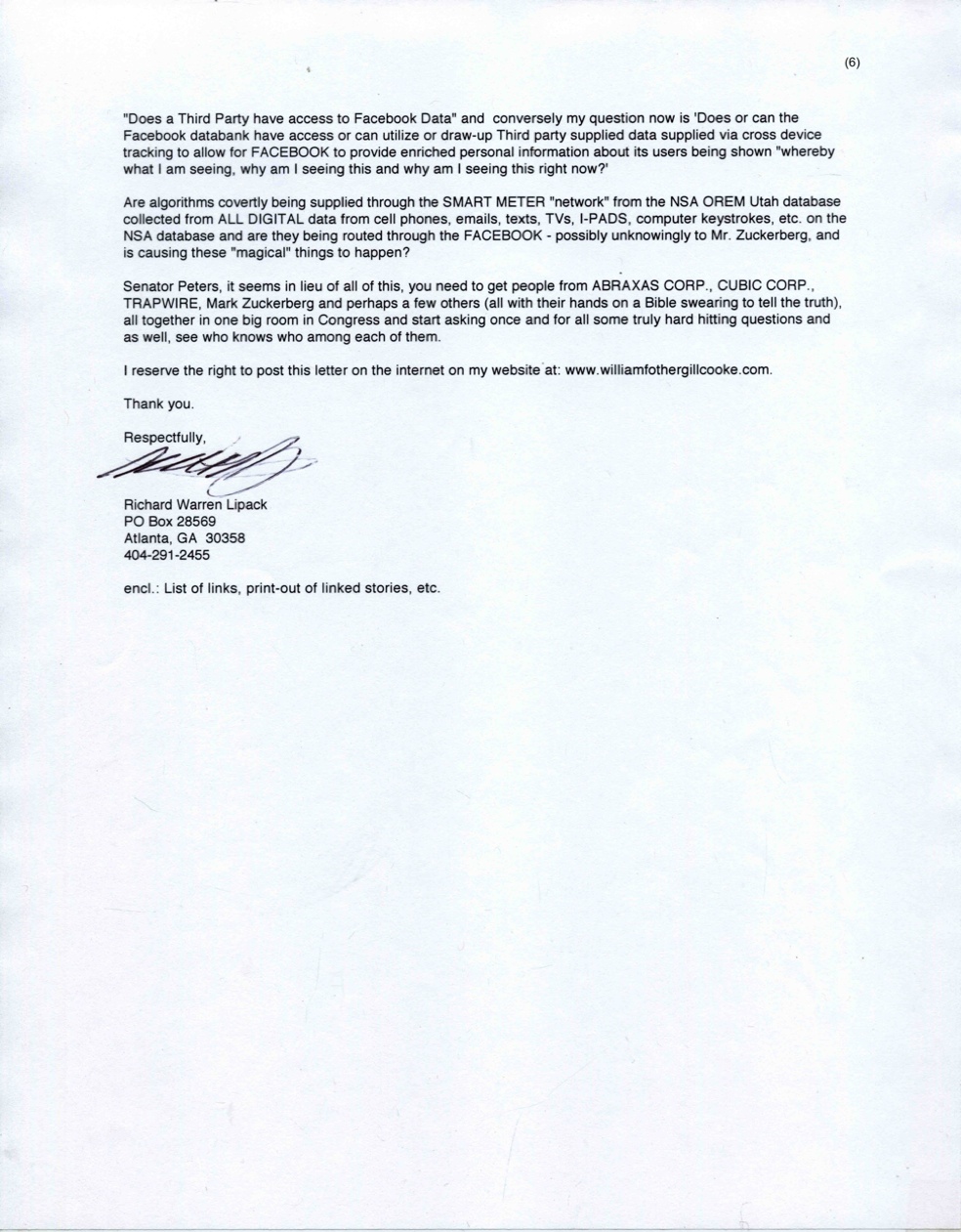 The big question remains - i.e:
Will and how shall the United States Congress act and respond to this very real and very dangerous threat to the United States Constitution, the Bill of Rights and to the privacy and rights of all persons and citizens of and residing in the United States of America - all while upholding the law of the great United States of America for generations and generations to come - long into the future?
The following is a copy of a letter sent by U.S.P.S. Certified Mail to Senator Gary Peters of Michigan on 2 May 2018 concerning his cross examination before the United States Congress in April of 2018 of Mr. Mark Zuckerberg; CEO and founder of the Internet website known as FACEBOOK.
After a month following no response by Senator Peters office, the 2 May 2018 letter was followed-up by direct emails to Senator Peters, through his website on 7 June 2018 and 9 June 2018 - again followed by no response.
On Friday the 24th of August, a phone call was made to Senator Peters office asking for the Senator to respond to the following U.S.P.S. Certified Mail letter 2 May 2018, by return U.S.P.S. Should a letter ever materialize, it will be posted here on this website at a later date.